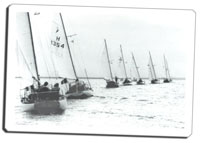 Four of the first people to own Trintellas met for the first time on October 24, 1968. The owners; Jules Coppens, Jan Buyze, Joe Butzelaar and Ad van Gent called themselves 'Committee of Trintel and Trintella sailors.' They wanted to encourage owners to contact them for a reunion. This was supposed to happen at a joint dinner party
The Veerse Meer in the south of the Netherlands was the place of the first reunion in 1969. The men decided that they should meet again in winter due to the success of the meeting. They planned to come together next winter to exchange photos and films and discuss the sailing season. They agreed that the reunion was to take place the next year in the north of the Netherlands on the Ijsselmeer.
From that moment on, a reunion took place every year. The location alternated between the north and south of the country. The ships that travelled north or south to the reunions tried to form convoys. The winter reunions became events. The members went on cruises on the Rhine, visited boat exhibitions in Dusseldorf and London and partied in the Kurhaus (Scheveningen) and in a castle.
The early 80s was a trying time for the ship yard and the association. The association became self-sufficient to prevent losing money to the ship yard. Mr Jan Greve took the initiative. The Trintella Friends' association was officially founded on May 2, 1984. The members of the association kept each other informed about their ships via the Trintella Journal; e.g. A Trintella 38 that competed in the OSTAR, the victory of a Trintella 42 in the Corpus Christi Race Week in Texas and also of a Trintella 42 participating in the Azoren race. Those who returned from a circumnavigation were welcomed home. The association has a Magazine, published twice a year, written in Dutch, partly translated in English and German.
The Trintella Friends' Association currently has a bit more then 230 members. The spring gatherings are still held annually in the north or south of our country. The days around Ascension Day are sacred to members! The autumn gatherings, which are combined with the yearly members' convocation are also well visited.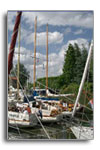 Our members are mostly Dutch, Belgian and German, but we also have members in Portugal, the United States of America, the United Kingdom, Norway, Austria and Hungary.