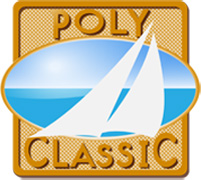 Almost half a century later, polyester cabin sailing yachts from the 60s and 70s prove to be attractive ships to many sailors because of the quality and classic look. Nowadays more and more of these ships are being recognized as classics.
Maintaining these classics requires specific knowledge. That is why some organisations of owners of these Polyclassics have decided to found a 'Platform of Polyclassics.' The Trintella Friends' association has sided with this platform. The cooperation deals with maintenance, market development and participation in the Classic Regatta.
Participating organisations:
Contessaclub Nederland*
De NicholsonKring der Lage Landen (The NichelsonKring of the lower lands)
BalladClub Nederland
Ecume de Mer Club Nederland*
Nederlandse Marieholmvereniging (The Dutch Marieholm association)
Oceaanclub (The ocean association)
Pion Klasseorganisatie (Pion Class association)
Trintella Vriendenkring (Trintella Friends' association)
Kring van VEGA-Zeilers (Association of VEGA- sailors)
Vindöclub Nederland* (Vindö association)
* Nederland = the Netherlands.