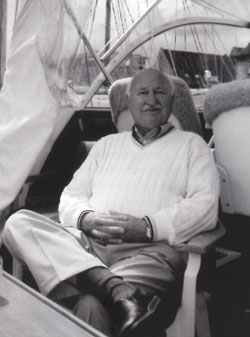 On January 11, 2009, The founder of the Trintella ship yard and our saint Anne Wever passed away in his hometown Lanaken (Belgium) aged 84.
Anne leaves behind a large heritage of Maritime history. As the founder of the ship yard Anne Wever he managed to promote the quality of Dutch yacht construction both nationally and internationally. First with the steel Trintels, later with the polyester and alluminium Trintellas.
He linked the name Trintella to indestructible and superior quality. The large number of sold and still sailing Trintellas is proof of this achievement.
Anne Wever was also at source of the committee of Trintel and Trintella sailors. The committee grew to the current Trintella Friends' Association, the Association for Trintel and Trintella lovers. For years his enthusiasm and friendliness connected many Trintel and Trintella sailors
During the 40th anniversary of the TFA in November 2008, Anne and his wife Riekie were named patron and patroness of the Trintella Friends.
Anne struggled with his health for a long time but managed to come to meetings of our Association, until November 2008, nonetheless. The committee and members of the TFA will surely miss Anne!